We're just over halfway into 2017. The internet already buzzes with ideas about the need to revamp your marketing as we slide into the rest of the year.
Some experts even recommend changing things up every month. I can't help thinking that makes a rod for your own back. How can you ever measure what works if you're constantly changing things?
But some companies have managed to use the same advertising principles for years at a time. So the question remains…
Do you really need to revamp your marketing every month?
Back in 1980, Absolut had just a 2.5% share of the vodka market in the US. They sold just 10,000 cases that year.
Something needed to change. So they hired TBWA to make a difference to their advertising.
Enter, the "Absolut Bottle" campaign.
It ended up running for 25 years and contains over 1500 separate ads.
This is the very first one. By the late 2000s, Absolut was importing 4.5 million cases per year.
That's half of all imported vodka in the US.
So how did they revamp their marketing?
The product itself looks pretty boring. The bottles are actually based on traditional medicine vials sold in Swedish pharmacies.
After all, vodka was once prescribed to cure medical ailments in the 16th and 17th centuries.
TBWA couldn't change the actual shape or design of the bottle. The restricted brief meant none of the usual advertising tropes applied, like portraying particular lifestyles.
So Geoff Hays took a different route. He chose to differentiate the product by telling a different story based on the bottle itself.
He paired an image of the bottle with a simple two-word headline.
The classic, simple shape of the bottle worked well with the concise, witty slogans.
So why did it work so well for so long?
The format was described as: "A bottle, two words, and a little bit of wit". The underlying message remains the same in all 1500 of the ads.
The bottle, and thus the brand, was a modern icon.
Later in the campaign, objects were cast in the shape of the Absolut bottle.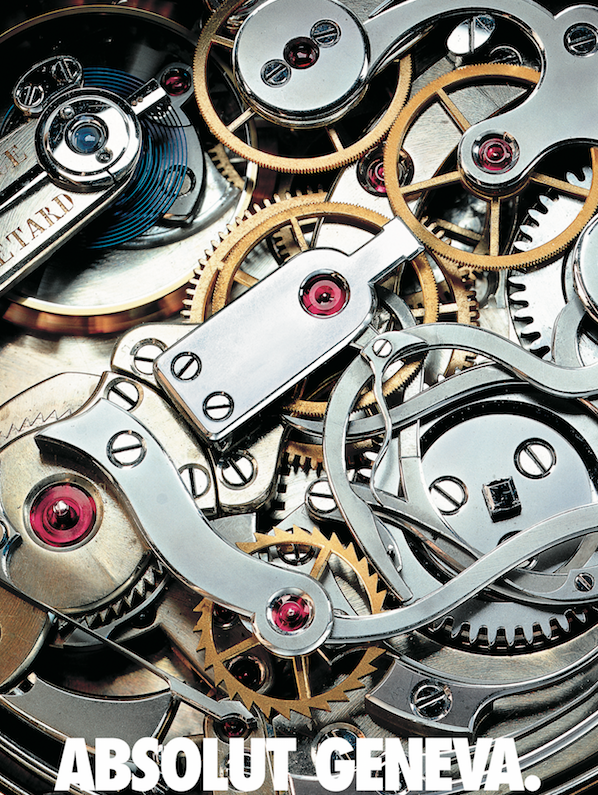 A professor of popular culture at Syracuse University pointed out that "these looked more like covers of The New Yorker than advertisements."
During the campaign, Absolut commissioned more than 800 artworks by Andy Warhol, Keith Haring, Annie Leibovitz, Helmut Newton, John Irving, Lady Gaga and Jay-Z.
The message was clear. "A cool brand for cool people".
Sadly the campaign did run its course. By 2005, commentators felt the brand looked tired, and "no longer as cool as it used to be".
But getting 25 years out of a single concept just proves you don't need to revamp your marketing every month.
What can you learn from the campaign for your own marketing?
1) Look at the story you can tell with your tech product or service.
Make a list of its core features. Now pair those features with what they actually provide for the user. The gap between the user before they use your product and their life after they use it is your story.
Absolut managed to tell a very subtle story using the shape of their bottle. It's classic, simple, durable.
Just like those old medicine bottles.
2) You should also play with imagery.
Don't just stick to the obvious. Look at popular culture. The below example only worked because of the controversy created by the Young British Artists in the 1990s.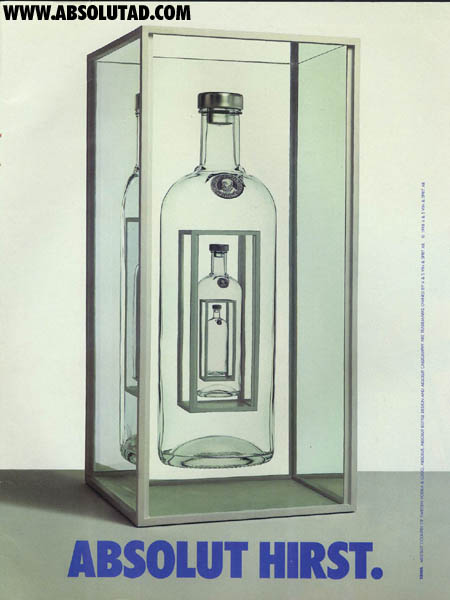 When you're brainstorming ideas, write them all on a large piece of paper.  When you've filled the page, fold it in half.
Force yourself to work with those on the lower half of the paper. They'll be more interesting and less obvious than the first ones you came up with.
Your copy is crucial. Without the tagline the Absolut ads make little sense. If you need help coming up with your copy, drop me a line and we can talk!
3) Look for associations between your product and your target audience.
How can you tell people this is the brand for them in a more subtle and nuanced way? Remember their aspirations and desires.
People who bought into Absolut wanted to feel cool and clever too, just like their ads. People who buy Apple products feel differently about themselves than PC users.
Thinking sideways unlocks more interesting marketing. Can you take inspiration from music, fashion, current affairs, or art?
4) Don't follow trends.
Following trends can be great if you get stuck for ideas. Look at the major tech firms – almost all of them have switched their logos to flat design from the mad array of gradients, drop shadows, and fonts that we had a few years ago.
But the problem with following trends is that you get stuck in a cycle of having to revamp your marketing every time the trend gets stale. If you pick something intrinsically true to your product, the lifespan of that idea is much longer.
For example, Apple puts its 'why' before its 'what'. Its 'why'? They 'think different'. Everything they do is different from what everyone else is doing. That results in the 'what'; cool, sleek products that other companies rush to copy. Their marketing reflects that so they don't need to keep revamping it because the why remains the same.
And if something works, stick with it! It did run out of steam but the Absolut campaign ran for 25 years.
Over to you! Do you revamp your marketing on a regular basis? Let me know!
[mc4wp_form id="490″]