You've probably already got a to-do list the length of your arm. Keeping on top of it is the only way you'll manage to get your blogging done (unless you hire a content writer).
After all, every time you look at your to-do list it seems to have sprouted 3 or 4 new tasks.
For the BBC, the key principle behind productivity is "writing down everything that you need to remember, and filing it effectively". Question is – what's the best way to file your to-dos?
After all, there's an array of tools at your disposal, so how do you know where to start? Which one will help you smash that to-do list?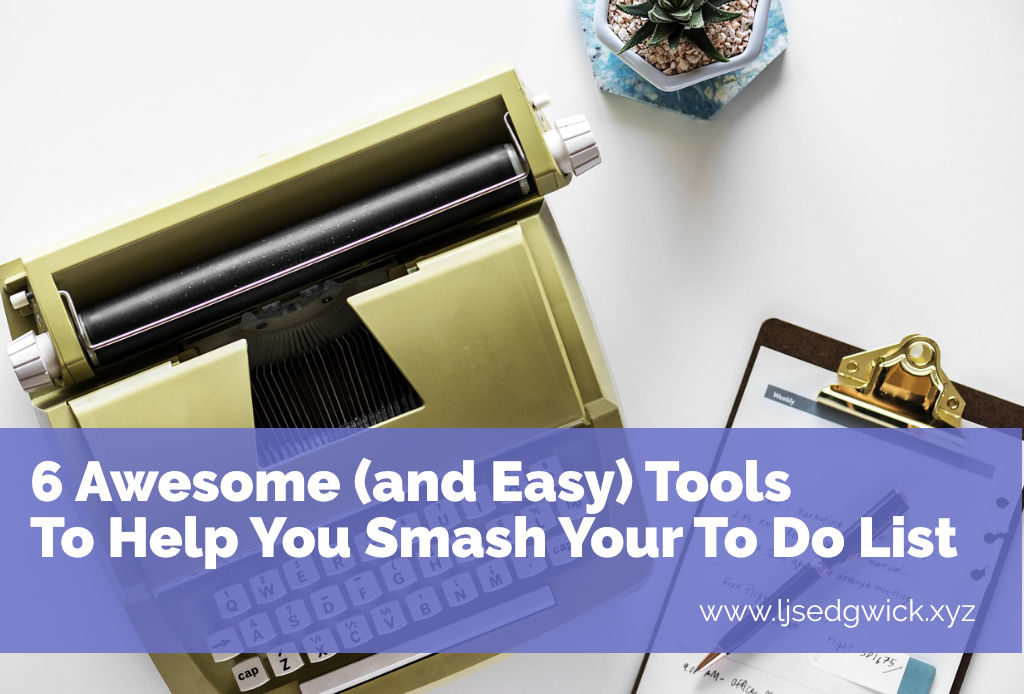 1. Google Keep
Google Keep is an online 'pin board'. If you've never used to-do list apps before and you want to know if they're more helpful than paper lists, Keep is an easy place to start.
Simply give a note a title and get typing. Not enough detail? Add check boxes and each note becomes a to-do list. You can colour code notes to make organisation easy. Unfortunately you can only set reminders on notes, not specific check boxes. But if you just need to keep track of tasks to be done, then you're set.
You can sync across your devices and browsers, and you only need your Google log-in details to get started!
Handy if you don't want yet another set of log-in details to remember.
2. Evernote
Evernote works like a digital filing cabinet. If you keep records in multiple physical notebooks, Evernote is a good fit!
It's easy to set up and you can hashtag notes to make them easier to find. Digital notebooks are searchable, unlike paper.
You can clip web pages, save URLs, paste photos into notes, and keep the information you need in one place. You can share notebooks with others to boost teamwork, and set reminders on notes.
The free version lets you install the app on just two devices, but the browser version is easy to use.
I actually use the Premium version, and I've written before on how it can help authors. The same principles apply for tech startups.
3. Wunderlist
There are hundreds of to-do list apps and they all basically do the same things.Wunderlist is available across devices, including Windows Phone and smartwatches!
You can set up folders, check off individual tasks (giving a tremendous sense of satisfaction, especially when it pings), share lists with others, and see at a glance what needs to be done that day.
It has a really simple, user-friendly interface that's incredibly intuitive and isn't intimidating. It even lets you add a 'do not disturb' to your notifications so you can work in peace!
You get plenty of functionality for free, but for extra features Wunderlist is just $4.99 a month.
4. Any.do
With a clean, minimal interface, Any.do does a lot of the same things as Wunderlist. You can log in with your Facebook or Google account, saving you from remembering another password!
You can snooze tasks for later and filter your main view according to time-sensitive tasks. It's really easy to see what needs to be done immediately.
Lifehacker claim 41% of to-do items are never completed, and Any.do lets you break larger tasks into smaller, specific actions to make projects more manageable.
You can set recurrence on particular tasks, which is brilliant for those regular things that need doing on a weekly or monthly basis.
There's also a the voice-entry feature for you to dictate your list, great if you're really busy, or you hate typing on a smartphone.
You get most features for free, but for extra features Any.do is just $3 a month.
5. Kanban boards
Kanban means 'visual signal' in Japanese and the technique is very easy to learn.
The basic set-up is to set up a board with 3 columns, named 'To Do', 'Doing' and 'Done'. You write each task on a card, and when you complete each task, you move its card from one column to the next. It's satisfying to visually monitor your progress!
You can tailor workflows to suit your specific needs.
It can be helpful for visually inclined digital marketers who like to see the 'bigger picture'. Kanban boards are also great for collaborative working, so you can see where your colleagues are up to, too.
You can use sticky notes or index cards on physical boards, or you can try digital alternatives if you need to share boards with your VA. LeanKit provide unlimited boards, flexible layouts and collaboration tools for $12 a month per user. It's essentially a drag-and-drop system.
6. Trello
Trello is halfway between a Kanban system and a digital pin board. You can drag notes from one list to the next as you complete tasks. Or you can add cards to each list for greater depth when it comes to tasks.
It combines features from to-do list apps, note-taking software and Kanban boards to create one simple browser-based system! You can colour code lists or share boards with other users.
It's more powerful than the other to-do list options, but it's intuitive to set up, and there are simple tutorials to help you get the most out of each feature.
This is just the tip of the iceberg for to-do list tools! What do you think? What are some of your favorite apps or tools for smashing your to-do list?